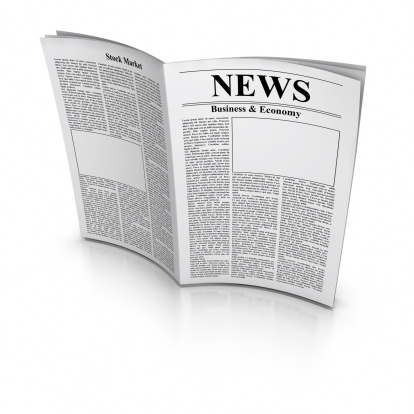 A recent study confirms about Web content what print publishers and editors have known for years: Huge numbers of readers only scan the headlines and never actually read most stories. Like a compelling photograph, a great headline can act as an entry point to draw fickle and time-pressed readers in and actually keep them there long enough to, well, read.
The handful of words that make up a headline must be chosen carefully. If your headline isn't stellar, it's very likely that all the other words you wrote will never get read and, therefore, will count for nothing. Follow this guide to writing awesome headlines that hook the reader.
Print publishers have known for decades that many readers just skim the headlines.
Be Accurate
A recent headline in a major news publication read "U.S jets drop four bombs on Great Barrier Reef after fuel emergency in training exercise." After reading the story, it was revealed that although four bombs actually had been dropped on the delicate, endangered, and protected natural wonder that is the Great Barrier Reef, the bombs had not been activated, didn't explode, and were later recovered by the military.
Although the headline perhaps compelled the reader to delve into the story, it was sensationalized and misleading. Headlines that mislead — deliberately or not — directly affect the credibility of the publication. The short-term gains of drawing readers into a story are not worth the permanent losses in perceived credibility.
Keep it Short and Sweet
A headline should be fewer than 10 words. There are virtually no exceptions to this rule. Get in, hit hard, and get out. If the topic is complicated or hard to summarize briefly, use a subhead or a descriptive lead paragraph.
Avoid Adverbs
With a few rare exceptions, if a word ends in "ly," a red flag should go up. Adverbs are crutches that are occasionally useful to prop up action words. Like all crutches, if leaned on too often, they make you weak.
If you're tempted to use an adverb, try to find a more powerful verb that can stand on its own two feet, or just make sure that the adverb isn't superfluous. If a car "suddenly stopped," leave out "suddenly." A stop is inherently sudden. If it rolled to a stop, say that.
Use the Active Voice
Headlines should go subject-verb-object. Many great writers have voiced logical, credible arguments as to why the passive voice is sometimes preferable in headlines, and it essentially comes down to preference. It is not arguable, however, that you can convey the same thought with fewer words in the active voice. For example: "The player hit the ball" instead of "The ball was hit by the player."
Avoid Puns
If you're going to engage in wordplay, it better be good. If you think you have a great pun, do yourself a favor and run it by someone who will tell you the truth. Puns are more often than not obvious, predictable, and cheesy.
The overwhelming amount of Web content means blog headlines really have to shine.
A headline is your first and best chance to get someone to actually read the other dozens or hundreds or thousands of words you wrote. Make sure your post delivers on your headline; don't repeat your lead paragraph; and use plain, but bold, language. Keep it short and take your time writing it. If it's just OK, nothing else you wrote will matter.
About the Author: Andrew Lisa is a freelance writer living in Los Angeles. He writes about the blogosphere and profiles destination providers such as Bluegreen Resorts.